Mountainside, NJ
Mountainside, New Jersey (07092) is located in Union County, just 25 miles from New York City, and has been rated as one of the best places to live in NJ by New Jersey Monthly magazine. Mountainside is surrounded by towns such as Summit, Springfield, Westfield, Berkeley Heights, and Scotch Plains. The borough of Mountainside attracts its 7,000 residents with its family-friendly atmosphere, excellent schools, great nearby restaurants, family-friendly activities and beautiful, historic homes costructed by one of New Jersey's top home builders. Mountainside is also perfect for those interested in nature and hiking, as it is home to beautiful parks such as Echo Lake Park, Mountainside Park, Watchung Reservation, and the Trailside Nature & Science Center. The peaceful rolling hills and tree-lined streets of Mountainside make for scenic drives and hikes. As it's name describes, the four-square-mile town of Mountainside is, in fact, built on the side of a mountain. When you reach the highest point of Mountainside, you can see an incredible view of the New York City skyline. This lovely town is ideally located just half of an hour from the Jersey shore and 40 minutes from New York City, and has easy access to highways. This proximity to NYC makes Mountainside a wonderful suburban-rural hometown for anyone who works in or around Manhattan.
Local Businesses
From trendy and traditional restaurants to locally-owned shops and movie theaters, Mountainside has something for everyone. The movie lovers of Mountainside take advantage of their close proximity to the AMC Loews of Mountainside, located on nearby Route-22. The Mountainside portion of Route-22 is also lined with great restaurants such as Echo Tap & Grille, Spanish Tavern, Stage House Tavern, Mosaico, Arirang Hibachi Steakhouse, and Olive Garden. If you drive through other areas of Mountainside, such down Mountain Avenue, you will find restaurants like Publick House, Outback Steakhouse, Daimatsu Japanese Sushi Bar, Mazzella's Gourmet Market, and Chrones Pizza. Mountainside families and couples enjoy the variety of dining options available in town.
Although Mountainside is a small town, it still has access to top medical specialists. Residents are fortunate to be located so closely to Children's Specialized Hospital, Overlook Medical Center, and many other doctor's offices. This makes it very convenient for citizens to get the care they need.
Community in Mountainside
Mountainside has a variety of close-knit, friendly neighborhoods. The town is a welcoming community which makes it a great place for families to live. The Mountainside School District is above average, with two public schools serving kindergarten through eighth-grade students. Depending on the neighborhood one lives in, children will attend either Beechwood Elementary School or Deerfield Elementary School. Mountainside students typically go on to attend high school at Governor Livingston in Berkeley Heights. Some students choose to attend a Union County vocational school for ninth through twelfth grade.
Families love Mountainside for its plentiful recreational events, offered throughout the year. Fishing, boating, hiking on the scenic trails, and attending summer evening concerts are just a few of the many activities a Mountainside resident can choose to participate in. The Mountainside Recreation Department is responsible for maintaining the community pool, which is open during the summer months. The pool facility contains a 50-meter olympic-sized pool, a diving board, two water slides, a children's pool, basketball, volleyball and tennis courts. The lifeguards provide swimming and diving instruction for children of all ages. The Recreation Department also maintains the Echo Lake Park Fitness Trail, the Echo Brook softball/soccer fields, the Echo Brook tennis courts, and recreational facilities at both of the elementary schools. Mountainside youth can get involved in sports through the Mountainside Baseball and Softball Leagues or the Police Athletic League (P.A.L.), which strive to develop each player's skills, self esteem, and teamwork abilities.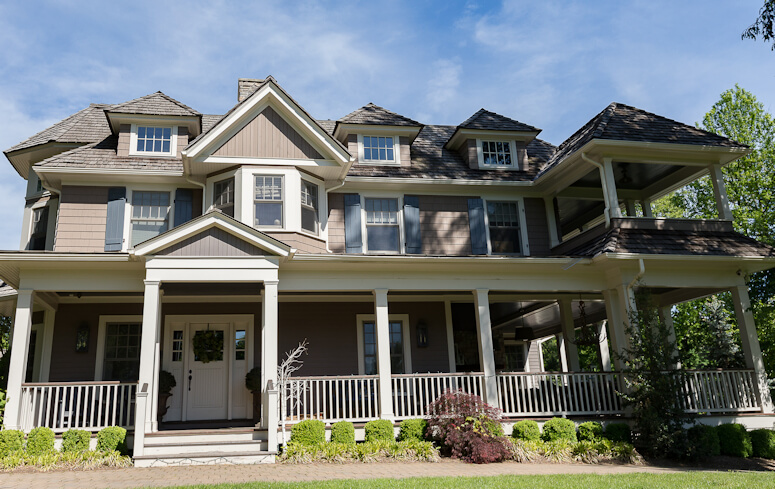 Beautiful, Mountainside, NJ (07092)
Even if you aren't interested in sports, there are many opportunities to get involved in the Mountainside community. Children of Mountainside are often excited to get involved in the Boy Scouts and Girl Scouts of America. Families who are new to town may enjoy the town's Newcomers Club. Even residents who have lived in Mountainside for years, but would like to meet more people, can benefit from this club! It's groups like these that truly bring the town together to form a close-knit community.
The Future of Mountainside, NJ
Mountainside preserves its quaint environment through a 50-year-old zoning ordinance that bans most retail services on the town's section of Route-22, other than restaurants and the AMC Loews movie theater. However, there is a three-block business district along Mountain Avenue that houses some restaurants, a bank, a post office, a bakery, and a few other essential businesses. The zoning ordinance also bans condominiums and apartment buildings, which enhances the sparse-suburban, small-town feel of Mountainside. For those who enjoy the quaintness of the town but still wish to shop name brands, The Short Hills Mall and Menlo Park Mall are each just a 15-minute drive from Mountainside.
You can count on Mountainside to continue to be a tranquil haven for those who desire a small-town lifestyle while still having easy access to all of life's conveniences. The small-town feel of Mountainside attracts many retirees, who are looking for a peaceful place to settle down, and families looking to avoid the hustle and bustle of urbanization. Located within commuting distance to NYC and a short drive to the Jersey Shore, the beautiful town of Mountainside offers great schools, plenty of recreational activities, and easy access to restaurants, shopping and great medical care. Mountainside truly has it all!